Clearly Perfect Angles

Clearly Perfect Angles 8 1/2" x 11", Cling template for sewing 45 degree angles.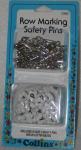 Collins Row Marking Safety Pins

Collins Quilters Safety Pins, Row Marking, 26 pcs.



Out of Stock
Easy memorabilia Quilts, ties, t-shirts, photos & more

Beginner Friendly Book by Trish Bowman. 96 pgs. 302 illustrations. Includes step by step instructions and 7 example patterns. Published by the American Quilters Society.


June Tailor Colorfast

Fabric Sheets for Ink Jet Printers


Omnigrid Ruler Rack

Omnigrid Ruler Rack, 20"x4"x3/4"


Route 66 Fabric

Road Trip USA - 1 yard cut of fabric commemorating the iconic Route 66. Two background colors - Black and Biege


StoryPatch

StoryPatch for Fabric Crafts. Attach audio, photos and videos to your quilts and crafts. StoryPatches come in both iron-on and sew-in versions. Pre-shrunk. 2 1/4" square.